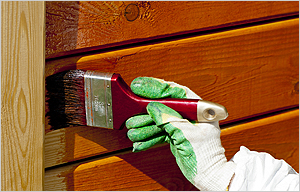 Enhance the look of your home with wood refinishing and pressure washing from a local painting contractor here in Evergreen, Colorado. Liberty Painting Inc. is run by two local owners who grew up in Evergreen who are passionate about painting. You will never experience any hassles or headaches when you hire our team to provide you with our painting, staining, wood refinishing, or pressure washing services. Contact us at (303) 674.4399 to speak with Steve Wilson or Erik Iverson about your project.
You'll be amazed with our custom stain, polyurathane, and enamel work. Our wood refinishing and faux finishing services make each door and cabinet in your home look like it was carved out of the finest of woods.
Our wood refinishing services aren't limited to the interior of your home. We also provide this superior service for your deck. First, we'll sand your deck down before following it up with a pressure washing with wood brightener. Finally, we'll stain the wood using premium staining products for a long lasting, beautiful finish. In the past few years, we've experimented with some new innovative deck coating materials that are truly amazing. Cedar siding restoration is also available.
Liberty Painting Incorporated performs pressure-washing services to clean your home's siding and decks. Just because your siding is looking dirty doesn't always mean you have to go through the cost of completely repainting it. Pressure washing often makes your siding look just as good as a new paint job!